Who is rollerchimp?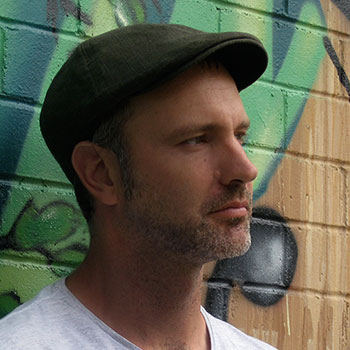 Rollerchimp (aka Andrew Bluff) is a new media interaction artist specialising in technology to enhance live musical performance, physical theatre and interactive art installations.  Seamlessly blending software engineering, sound design and digital projection to create live synesthetic audio-visual events.  Andrew is currently undertaking doctorate studies to research immersive and stereoscopic 3D techniques for the augmentation of live performance at the University of Technology, Sydney (UTS).
In addition to his interactive live performance work, Andrew has developed the mobile drumming apps DrumStudio and RoboDrummer and received the prestigious App Art Award for his innovative iOS app, Mobile Phone Orchestra.
Andrew is a member of the innovative Creativity and Cognition Studios, the multi modal sound collective Triangulate, and is also a member of the  Transmedia Technology group.
Rollerchimp has also worked as a professional software developer on many cutting edge sound, lighting and video applications including:-
Vista 2 (Jands) – Innovative lighting console for theatre and live music productions
Pyxis/Evo (Fairlight) – Flagship video/audio digital workstation
Poststation 2 (DspMedia) – A digital audio post production suite
SmartConsole (SmartAV) – Revolutionary large format / small footprint audio mixing console
Hector (Cetnet) – Integrated automation of lighting and AV equipment for smart homes
Nexus (Evolution Broadcast) – Unified touch screen control system for streamlined television production of live sports within Outside Broadcast (OB) vans.
If you want to know more about Rollerchimp, please shoot me an email at info@rollerchimp.com